Last updated 4/2/98


WaveFilter "What's New" page.
A link to this page can be found on the main WaveFilter home page as the top menu item on the left.

Answers to the most common WaveFilter Questions
---
Table Of Contents
WaveFilter Image Edge Blend Tutorial
WaveFilter Shader Refraction Tutorial
What is ready to download, demo and buy now? 12/11/98
Desktop Professional Tools
WaveFilter Tools
3D Studio Max Plug-ins
WaveFilter Image
LightWave 3D Plug-ins
WaveFilter Volume
WaveFilter Image
WaveFilter Shader
WaveFilter Bundle
Extras
WaveFilter Net+

Test Images using WaveFilter products 12/11/98
---
CONTEST WINNERS
Soon, the files used to generate these winning entries will be added so that you can learn how each entry used WaveFilter products to get the excellent effects. We wish to congratulate all the winners. I think each winning entry is an excellent example of how WaveFilter products can be used to improve your image.
Dion Hopkins - Fast Fuzz and Fur - WaveFilter Volume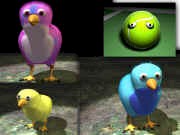 Jason Bickerstaff - Magic Mushroom - WaveFilter Volume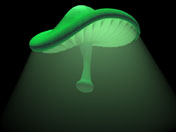 Marvin Landis - Three Converted Renderman Shaders to LW Shaders - Plugin2 Creator using remote compiles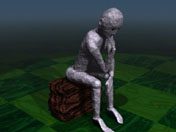 Panikos Panayiotou - Dull Reflections - WaveFilter Shader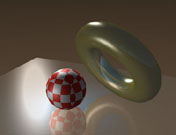 Ed Parenteau - Still Life - WaveFilter Shader & WaveFilter Volume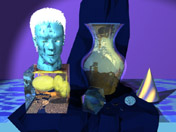 ---
WaveFilter Volume FAQ
WaveFilter Volume's most ask questions all answered plus an overview of all the interface settings.
3/31/99 http://www.wavefilter.com/WFVolumeFAQ.html Intel/Alpha - LightWave 3D
WaveFilter Image Edge Blend Tutorial
WaveFilter Image's most used feature is the edge blend filter. To assure that folks are getting full advantage from this tool, I added a short tutorial to help you get started.
11/20/98 http://www.wavefilter.com/EdgeBlendTutorial.html Intel/Alpha - LightWave 3D/3D Studio Max
WaveFilter Net+ DOF Tutorial
Every feature of WaveFilter Net+ has been improved in WaveFilter Image with one exception. WaveFilter Net+ still offers the finest DOF effect available for LightWave.
3/10/99 http://www.wavefilter.com/DOFTutorial.html Intel/Alpha - LightWave 3D
---
What is ready to download, demo and buy now? 12/11/98
WaveFilter no longer just means image filter
WaveFilter means written by Mike Reed. All products share the WaveFilter name followed by a name which describes the function of the product. WaveFilter Image evolved from the original WaveFilter image filter but there is no longer any ONE product called WaveFilter, instead, there is now a family of products known as WaveFilter.
Where are the demo versions to download?
If you visit the DOWNLOADS page, or look below on this same page, you can now download and test all the shipping products. As more products are completed, they will be added so that you can test them as soon as possible. Each of the downloads are the actual product, but without registration, they act as demo versions for you to try before you buy. Each demo uses varying limits but each give ample freedom to allow the products to be well evaluated.
Desktop Professional Tools
WaveFilter Tools
3D Studio Max Plug-ins
WaveFilter Image
LightWave 3D Plug-ins
WaveFilter Image
WaveFilter Shader
WaveFilter Bundle
Extras
WaveFilter Net+

---
Desktop Professional Tools
-----------------------------------------------
WaveFilter Tools™ $99.95
Intel Only
Intel Available Now - Download Intel - Purchase
A powerful collection of everyday tools for the serious desktop professional. While created for LightWave 3D users, these tools offer something for artists using any program that works with frames or keyframes. All 3D designers, animators and video editors will find this a must have collection.
Includes:
WaveFilter Master of Perception (MOP) - Fastest way to copy frames to a PVR or anywhere
WaveFilter Regress - Can't say what this does yet. But you WILL need it.
WaveFilter Beat Recorder – Tap out a beat and get frame numbers for animation or timecode for editing
WaveFilter Sequence - Rename and renumber frame sequences
WaveFilter Super Points Into Things (SPIT) - Turn points in modeler into nulls or any object
WaveFilter RenderDroid - Put RenderDroid on the Windows desktop for drag and drop rendering.
WaveFilter Evolver - Selectively clone attributes and plug-in settings from one surface to many surfaces.

---

-----------------------------------------------

WaveFilter Image™ $99.95
Available Now - Download - Purchase

Professional level post image adjustment. Includes the softest most beautiful blur available, An edge blend tool to remove the unwanted jaggies, film grain as well as a full set of color correction, composite and image enhancement tools. The color preview window assures correct settings on the first try. A top selling plug-in for LightWave 3D ported to 3D Studio Max. This is the one plug-in you will use in every scene you render.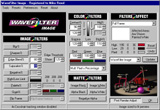 ---
LightWave 3D Plug-ins
-----------------------------------------------
WaveFilter Volume™ $99.95
Intel and Alpha - You get both
Available Now - Download Intel Download Alpha - Purchase
A powerful shader with five methods to create volume effects. Each mode creates volume objects using different techniques to help you get the effect you need as fast as possible. Fill any mesh object with volume or put a transparent box around your scene and a special WaveFilter Volume lens on the camera and create scene wide volume effects. So you choose if the effect is enclosed in a mesh or applied to the entire scene. Linear mode gives you super fast and flexible volume fog effects. Falloff mode gives you the power to control the falloff of the fog with a animatable Bezier curve and blend the color of the fog with another animatable Bezier. Hypertexture mode lets you create true ray marched 3D volume, many noise types available. Hypertexture Plus adds the ability for the ray marched volume to be light sensitive. No need to set each light separately, all lights types are supported, even point lights and area lights. Add a light to the scene and the volume responds with volumetric effects. Hypertexture Cloud Ball mode makes fireballs, explosions and clouds.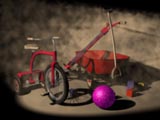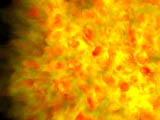 Get the Fireball AVI (884Kb)


Get the fly-thru AVI (940Kb)

---
WaveFilter Image™ $99.95
Intel and Alpha - You get both
Available Now - Download Intel Download DEC Alpha - Purchase
Professional level post image adjustment. This is the fourth generation of one of the best selling LightWave plug-ins of all time. Includes the softest most beautiful blur available. Also includes an edge blend tool to speed rendering by allowing higher threshold settings for LightWaves' own antialias. Add to that film grain, a full set of color correction, composite and image enhancement tools and you will find this the one plug-in you will never render without. The color preview window assures you get the exact settings needed quickly, easily and accurately.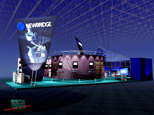 ---
WaveFilter Shader™ - $99.95
Intel and Alpha - You get both
Available Now - Download Intel 1.1 version Download Intel 1.5 version with Plugin2 Creator Download Alpha 1.1 version - Purchase
This surfacing tool simply can not be beat. Why effect your surface with a toy, when you can have professional level control? Bezier curves give the greatest level of flexibility over the most important surfacing parameters. Every feature is animatable, even the Beziers. You have never had more control over fractal noise, glancing effects and the full list of surfacing parameters. 30fps real-time texture preview is amazing. From far-out to photo-real, this surface Shader is the key to amazing results.



Shader 1.5 is now out for Intel. And it includes the new Plugin2 Creator tool. The 1.1 version does not support the Plugin2 SDK or the Plugin2 Creator.
For Coders
----------
This version of Shader supports a new Plugin2 SDK that allows programmers to add new textures to Shader with minimum code. This allows coders to produce very powerful LightWave 3D shaders in much less effort then using the LightWave SDK. With the Plugin2 SDK, you write minimal code and you get all the power of WaveFilter Shader automatically.


For Non-Coders
--------------
The Plugin2 Creator was designed for those who find writing code a nightmare, and can also make the job of a real coder much simpler. You can create very powerful Shader Plugin2 files with only a few mouse clicks. These are real C based plug-ins, but you don't even need a compiler. The Plugin2 Creator creates the true C source files for you and then uses the Internet to send the source to the WaveFilter site where they are automatically compiled. The resulting Plugin2 file is then returned to you and installed. Best part, this all done automatically for you.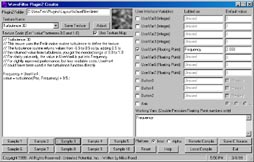 * NOTICE * - Follow the readme install instructions EXACTLY!!! DO NOT just copy the files onto your system or they will fail to operate correctly. READ THE README.TXT FILE! The Intel 1.5 version requires that the plug-in be reregistered (same code as before if you remember it) and the Plugin2 creator requires that the machine it is installed on is on the Internet to perform remote compiles. Latest version of Plugin2 Creator can be found at ftp://ftp.wavefilter.com in the Plugin2-Intel folder along with all the publicly available Plugin2 texture files. When you local compile, you do not share your new texture, but when you remote compile, the texture becomes available for all to see, including the full source code for it.
Some time in the future, I hope to have a single file install that will make installing all the WaveFilter products much simpler. For now, follow the readme!
---
WaveFilter Net+™ $99.95
Intel or Alpha - You choose
Available Now Via Email Download Intel Demo Download Alpha Demo Download Amiga - Purchase
Rack-focus, track-focus Depth of Field (DOF) effects. Fast and very soft blur based on distance. Proper occlusion between foreground and background objects. No finer DOF effect is available anywhere for LightWave 3D at any price. These demos are not unlockable. When you purchase, a full version will be sent to you via Email.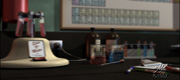 ---
WaveFilter Bundle™ $179.95 -
Available Now Purchase
This is the ultimate collection of tools for all serious 3D designers. The bundle includes WaveFilter Tools, WaveFilter Image, WaveFilter Shader, WaveFilter Volume and WaveFilter Net+. Every plug-in supports ScreamerNet and is fully animatable.
Watch here for a downloadable WaveFilter Bundle package. When it arrives, you will be able to download a single file and run a single setup program to add all WaveFilter products to your system. Until then, please download and install each element separately.
---
WaveFilter HTML Manuals - FREE with any WaveFilter purchase
Available Now Download

The WaveFilter.com web site contains the manuals, but if you prefer to use the manuals off-line, here they are are in a zip file.
---
Test Images using WaveFilter products

12/10/98 (Newest listed first)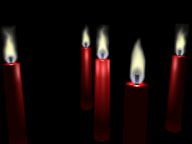 Click on image to see it full size (25 Kb)
12/10/98 5Candles.zip (929Kb) I am adding the ability for users to easily add new textures to WaveFilter Shader via the Plugin2 SDK. One of the sample textures called Smoke and Fire was used to create the candle flames in this image. Each flame is 3 polygons stacked, if you turn your brightness up, you can see the polygon edges, Oops. Expect to hear more about the new Shader features very soon. Just wanted to post this to wet your appetite. I guess I should also note that the flames have a great, matching, alpha image. With the addition of the texture SDK, I expect Shader users will soon be seeing many more interesting textures.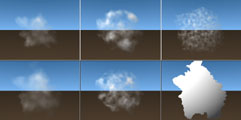 Click on image to see it full size (92 Kb)
10/9/98 The clouds had nice outside shape, but they needed inner details as well. These six images were just 6 tests renders while I playing that looked cool. Still more to do, but I think you can see it's coming along.

Click on image to see it full size (91 Kb)
WFVolume747Flyby2.zip (940Kb) Here is the animation. It was a test so it's very short and way too fast, scrub it by hand to see it best.
8/25/98 This is the Hypertexture cloud ball REALLY close up! The camera is about as close to the volume as I could get it right on the very tip top of the ball. I added the plane so you could see the 3D nature of the volume.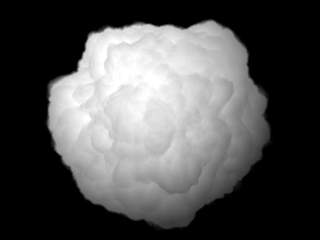 8/22/98 This is a simple Hypertexture cloud ball. As you can see, now you can control the strength that the outer edges of the ball are pulled into the center by the applied texture. And notice the light is up and to the left. I was pretty happy when this one came out. I see some really cool explosions in my future :)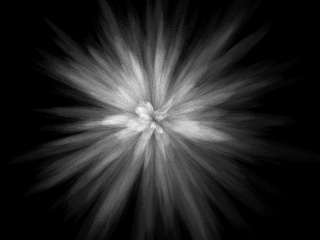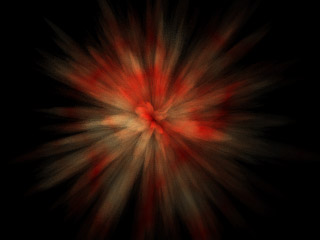 This was the first Hypertexture cloud ball. As you can see I still needed to add a variable to control how deep the recesses pull in. But it was cool. The volume takes on the surfacing from it's bounding ball object, so I applied WaveFilter Shader to the second one just for fun.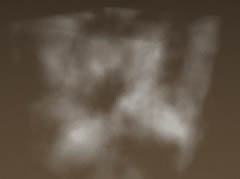 WFVolumeMarchTest1.zip 8/11/98 (500Kb) First simple volume marched. Just a box full of lumpy volume. The camera starts outside the cloud and flies inside. Other object could have flown into this volume.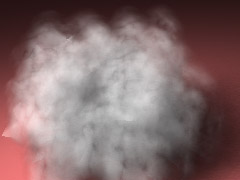 3/19/98 - In this test, I used the WaveFilter Shader Poly-Volume™ filter to convert 30 balls into this wonderful cloud . Because it's Poly-Volume™, the renderer actually sees the volume as part of the scene. This is not some pixel filter or image filter trick, but real polygons rendered by the LightWave renderer. WaveFilter Shader just makes the LightWave Renderer hallucinate the volume when it looks at the balls, Light Wave really believes it's there. You see it in reflections, you can even see reflections in it if you like. The volume receives shadows, cast shadows and self shadows. It supports the renderer fully, with the exception of shadow mapped lights. Even a raytraced steamer light sees the volume!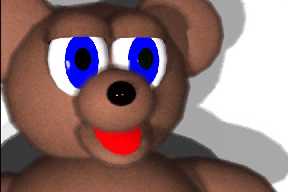 Click on image to see it full size (20 Kb)
2/14/98 - In this test, I used a slightly more complex object and covered it with fuzz. This effect combined a shader and an image filter to get the required pattern and softness in the fuzz. The fuzz object was created by selecting the polygons I wished to add fuzz to in Modeler and doing a smooth shift out. So the fuzz exactly follows the original model. This includes the fact that it was a fairly low-res model and you can, once again, see the polygon edges. But the effect seems fairly nice.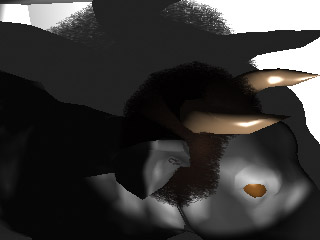 WFAfroCow.zip 2/12/98 (677Kb) Once I had seen the fuzz on the cow, I wondered if the volumetric properties would support shadows. Here is the answer... YES!!! And refraction, reflection and most any other feature of the renderer. It WAS in the scene as much as any polygon object. The only failing so far is shadow maps, which are solved for before the render begins and therefor the shaders have not yet run. With shadow maps, you get a shadow of a solid fuzz object with no volume properties.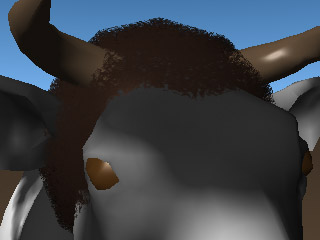 While making Fireballs, I found settings that made a fireball that looked more like one of those BIG afro haircuts you saw so much of in the '70s. I was using a level 1 tessellation for my tests, so excuse the polygon edges. I took the fireball/fuzzball and put it on the cow object just to see what it would look like. I changed the color to be more hair like and rendered. This effect is limited to only fuzz, but should work nicely for any type of tight curly fuzz. Looks kind of like a 3D version of the popular G.I. war hero dolls hair.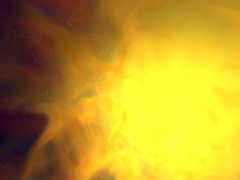 Click on image to see it full size (597Kb)
WFFireBall98b.zip 2/10/98 (4,512Kb) Volumetric fireball still and animation. The still makes a stunning Windows background. The animation starts INSIDE the fireball, pulls out, spins around and reenters. I did not move the noise, so you can clearly see that it is truly three dimensional. It's a big file, but pretty cool.
WFFireBallBig.zip 2/12/98 (788Kb) Because detail is difficult to see in a small AVI file, I converted the first 10 frames of a video resolution animation out to a full size AVI. You will need to view it by hand as it is only 10 frames. But the details are amazing.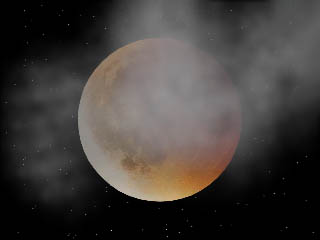 Moon.zip 12/19/97 (1,718Kb) Here, Ross McTaggart uses the vanish plug-in to create a volume of gas and does a flyby. This is 20 four point polygons controlled by Particle Storm with a bit of wind.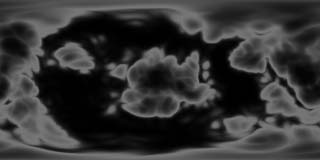 12/16/97 - Cells000.jpg - A sample frame from the ToxicSnowball image sequence. This is the actual size of the image. This image will map seamlessly when spherical mapping is used.
ToxicSnowball.zip 12/16/97 (1,048Kb) Another test of image mapped displacement. This time a new sequence was generated to seamlessly spherical map. The test was set up to show all sides of the ball to prove that even while the texture is animated, there are no seams to be found. Dean Scott was kind enough to generate the mapping objects to allow WaveFilter Shaders to correctly generate seamless image sequences for spherical mapping. Thanks Dean! Initial tests show that generating image sequences in LightWave 3D is a very efficient method and can cut the creation time considerably when compared with stand alone texture generators. Also, because your using a real 3D application, you have many more options for how the image map will accelerate, turn, slide, pulsate and move.
12/11/97 - TrainSmoke000.JPG - A sample frame from the image sequence used in WFABomb and TrainSmoke animations. Notice how multipurpose these sequences are. In the sequence, the noise pattern moves down at a steady speed and the noise pattern churns and boils. Click the image to see the full size frame.
WFABomb.zip 12/15/97 (598Kb) A more advanced tutorial using the same image sequence as TrainSmoke but applied to multiple surfaces to create a mushroom cloud effect. The heat waves in the clouds are generally the same technique as used in the star explode animation. This tutorial simply combines and expands previous tutorials. WaveFilter Shaders Vanish plug-in created the heat waves and WaveFilter Shaders RepColor causes the mushroom cloud to change color from an orange color to a gray color.
TrainSmoke.zip 12/11/97 (998Kb) A simple tutorial that shows how the WaveFilter Shaders RepColor plug-in can create powerful moving texture sequences that can be displacement mapped to an object to give a much more exciting and fluid look. Included are two AVI files, one showing the scene without the help of WaveFilter Shaders and one with. The difference is very dramatic as you see a simple tube of smoke from the train change to a billowing trail of moving smoke. In this tutorial, no surfacing is applied, just simple diffuse. The effect is to fully show the moving displacement in action and the creation of image sequences using WaveFilter Shaders.
StarExplode.zip 12/11/97 (597Kb) An often used effect, this time done with a single polygon and the WaveFilter Shaders Vanish plug-in. Some call this a shock wave explosion effect.
ExitWarp.zip 12/11/97 (4,022Kb) A very simple tutorial sample for WaveFilter Shaders Vanish plugin. The portal is a single polygon with four points. The polygon was simply scaled up over the time of the animation while an envelope on the noise caused the movement in the pattern. Imagine what you could do with a little added geometry! This is a big file, but worth the download.
BloodWagon.zip 12/11/97 (2,400Kb) A test of the WaveFilter Shaders Vanish plug-in and traced shadows. Looks like it's working. Unfortunately, shadow maps will never be supported by Vanish. This isn't supposed to look like anything, it just a test that looked cool enough to put online. Notice the ball in the wagon has a stringy looking pattern caused by a second WaveFilter Shaders Vanish plug-in applied to its surface and set to different settings.
MRRefraction.zip 12/11/97 (98Kb) A modeled lens is used to show how refraction can be varied and if needed animated over time using the WaveFilter Shaders Refraction plugin. The geometry is not being distorted, only the refraction of the material is being animated. With noise turned off, this offers the ability to vary refraction over time, a feature not found in LightWave 3D itself. All real world transparent materials have imperfections and variations in density that cause real refraction to never be a constant over the entire surface of an object. While this example is highly exaggerated, an artist seeking photo realism including refraction should apply the WaveFilter Shaders Refraction plug-in to every refraction surface at a mild setting with a static noise setting. Interesting side note, varied refraction actually renders FASTER then fixed refraction!!!
There are many more examples in the gallery section of the full WaveFilter site. http://www.wavefilter.com/html/gallery.html The Mike Reed section has most of the in-house test animations.